Discover more from The Millennial's Almanac
Folksy wisdom for modern life
The Millennial's Almanac: May 21-June 19
Folksy wisdom for your quarter-life crisis
Welcome to the Millennial Almanac!
ICYMI: Before Gutenberg made a Bible, he printed an almanac. The ancient texts were first produced by Babylonian astronomers, but they have guided beleaguered farmers, seasick sailors, and armchair witches for thousands of years since. From the scientifically-validated to the fringe conspiracy, the exceedingly practical to the absolutely absurd, almanacs offer non-judgmental advice on every aspect of living. And who could use a bullshit-free guide to life more than you? Now get scrolling.
Home and Garden
There are two types of entertainers: people who go overboard and buy four pounds of cheese per guest and people who put an open bag of chips on the table and expect everyone to bring their own alcohol. Both of these extremes can be a recipe for disaster, but there is a way to find hosting bliss.  
But, there are some basic host and guest rules that every millennial should know:
DO buy some serving dishes
Red Solo cups are fine if you're hosting a lot of people or normally drink your wine out of mugs, but there's a happy medium between owning crystal wine glasses for every guest and at least being able to provide them a tumbler. At the very least, it's clutch to own some sort of tasteful pitcher so that you can serve up sangria.
DON'T expect your guests to pay for everything
Even if you're throwing the most casual party, don't expect your guests will provide all their own food and booze. That is not a party and you can't just have people bring shit to your house for free (unless it's your birthday or you just got dumped or something). If you're really concerned about folks showing up empty-handed, be clear with your expectations: "We will have light snacks and some wine." "We will have some beer but feel free to bring beverages of your choice." "We will be serving a six course dinner and please bring dessert."
Ultimately, even if you're serving PBR, the price of an evening at home almost always outweighs the cost of an evening out for all involved. Bonus: if you're the host, no expensive rideshare home at the end of the night.
Conversely, if you are a guest bring something! It's okay to even bring something you know you'll want to drink in order to alleviate the host's burden. But don't bring a six-pack of Miller Lite and then drink all the craft gosse the good guest brought.
DON'T expect your guests to arrive on time
The reality is most people (not me!) are bad at arriving on time. They either don't want to be the first person there or have no sense of time and distance. My general rule of thumb is to say the start time of a party is at least 30 minutes before you actually want people to arrive. If it's a dinner party, also give a 30 minute window but make it clear when dinner will be served and pad the beginning with drinks and appetizers.
If you're a guest: please don't show up more than an hour late to a party that isn't an all-night house party your friend's roommate's cousin's college ex is hosting. If you do have to show up more than an hour late, give your host a head's up.
DO have fun
Hosting should be a pleasure. If it's not fun for you, don't do it! Going out to a bar or restaurant or whatever your friends like to do is a perfectly acceptable way of socially gathering! There's also no "right" way to have a party. I tend to keep mine on the smaller side and still enjoy being able to drink, buy too much food, and ask people to dress up like Mamma Mia characters. If you want to have a party for one or 100, it doesn't matter!
Moon and Stars
In Latin, Gemini means "twins," specifically the twins Castor and Pollux. Known collectively as the Dioscuri, the duo was born to the Spartan queen Leda, but by different fathers—a phenomenon we all know is medically possible thanks to Grey's Anatomy season 3 episode 6. Castor was the mortal son of the Spartan king, but Pollux was the son of Zeus aka the swan. Their loyalty to each other knew no bounds. When Castor died, Pollux asked Zeus to kill him, too, and keep them together forever in the form of the Gemini constellation.
But that doesn't mean there wasn't tension. People born under the star sign Gemini, which rises Tuesday, are known for having two personalities in one: They are fun, curious, and adventurous. They've retained their childlike innocence and curiosity into adulthood. But they're liable to get deadly serious fast. This can make for a veritable rollercoaster of emotions, but it also makes them good at communicating and caring for others. After all, that's what Castor and Pollux were really known for: They were the original patron saints of sailors, embodied by the luminous plasma coronal events now called St. Elmo's fire.
So TL;DR: This month is the perfect time to take a spontaneous trip. Whether you stay close to home or stray far away, Gemini juju will see you home.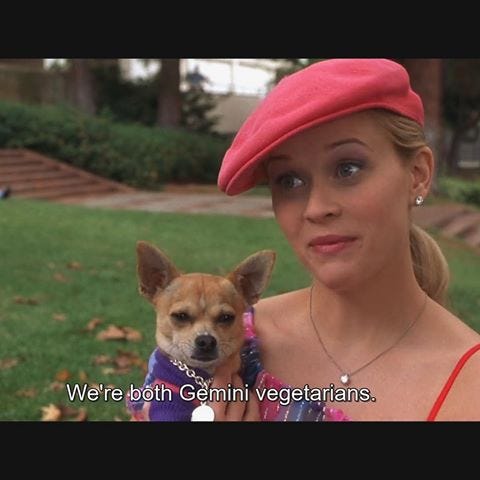 Finances
🚨Guest post alert! 🚨 from Breeze Riley, managing editor of fan pop culture site The Marvel Report
Game of Thrones' watch has ended, but does that mean yours does too? Now is a great time to reevaluate how much money you're spending on entertainment subscription services. With a deluge of increasingly expensive streaming services (and all the ones yet to come, hey there Disney+), it can be easy to get sucked into paying for ones you rarely use. A good rule of thumb is if you haven't watched anything on that service in a month, it might be time to cancel it. After all, that new Noah Centineo movie will still be there when you decide to come back.
Most services make it very easy to reactivate, and if you're gone long enough they might even offer you a new free trial or discounted price.
Other free legal ways to watch TV or movies include indoor antennas to pick up local channels (think a modernized version of rabbit ears) and services paid for through your local library like Kanopy or Hoopla. Seeing if a friend or family member wants to split an account is also a great way to save money on pricey services.
Best Days
May 19: If you named your child Khaleesi, here's how to start the process of legally changing their name.  
May 27: It's a waning crescent moon and time to treat your toes. Get a pedicure or slap on a baby feet foot mask (I like this brand.) Yes, you'll feel like a snake for a few weeks if you chose the latter but your sandal-worn feet will thank you later.
June 1: A new month and a good day to say BYE SISTER… to the fake friends in your life who would almost certainly do free #spon for your main competitor in the gummy vitamin market.
June 11: The moon in Libra may mean your skin feels out of sorts. Make sure your routine is fit for summer weather. And if you're not wearing a daily SPF, get on it!
Folklore
If you're sick of moon and stars, well, suck it up, because I have one more astrological fact to share: The modern conception of a 12-sign horoscope was invented just 82 years ago.
As Craig Brown recounts in his wonderful, form-breaking biography 99 Glimpses of Princess Margaret, Queen Elizabeth's younger sister was born on Aug. 21, 1930. As we all know from the more contemporary births of Archie and Archie (oh, sorry, I mean Prince George), these things cause a lot of hoopla. But James Gordon, editor of the Sunday Express was quite bored with the routine royal baby announcements and decided to do something special—like predicting little Princess Margaret's future.
Gordon asked Irish astrologer to the stars Cheiro for some help, but settled for his assistant, R.H. Naylor, when it was clear Cheiro was unavailable. On Aug. 4, Naylor published "What The Stars Foretell For The New Princess" to much fanfare; he predicted an "eventful life" for Margaret—a sure bet for a princess—but, more specifically, anticipated something momentous in her seventh year. To everyone's surprise, he was right: Margaret's uncle abdicated the throne to marry an American divorcee, making Margaret's sweet, stuttering father the reluctant King of England. It also made R.H. Naylor the most famous horoscope writer in the world, one with the power to shape markets ("Monday's bad for buying") and lives ("Break up with your girlfriend cuz I'm bo-oh-ored").
From the original column on Princess Margaret until 1937, Naylor went the traditional route, forecasting people's futures based on their specific eight-digit date of birth. But that year, he decided to simplify the process by dividing a cross-section of the sky into 30 degree angles, creating 12 one-month sun signs. Naylor continued his column until his death in 1952, when his son took up the mantle until 1986. Today, more than 90 percent of people surveyed know their sun sign—and 40 percent think it's based in science. Oof.