Discover more from The Millennial's Almanac
Folksy wisdom for modern life
The Millennial's Almanac: June 21-July 22
June 21-July 22
Welcome to the Millennial Almanac!
ICYMI: Before Gutenberg made a Bible, he printed an almanac. The ancient texts were first produced by Babylonian astronomers, but they have guided beleaguered farmers, seasick sailors, and armchair witches for thousands of years since. From the scientifically-validated to the fringe conspiracy, the exceedingly practical to the absolutely absurd, almanacs offer non-judgmental advice on every aspect of living. And who could use a bullshit-free guide to life more than you? Now get scrolling.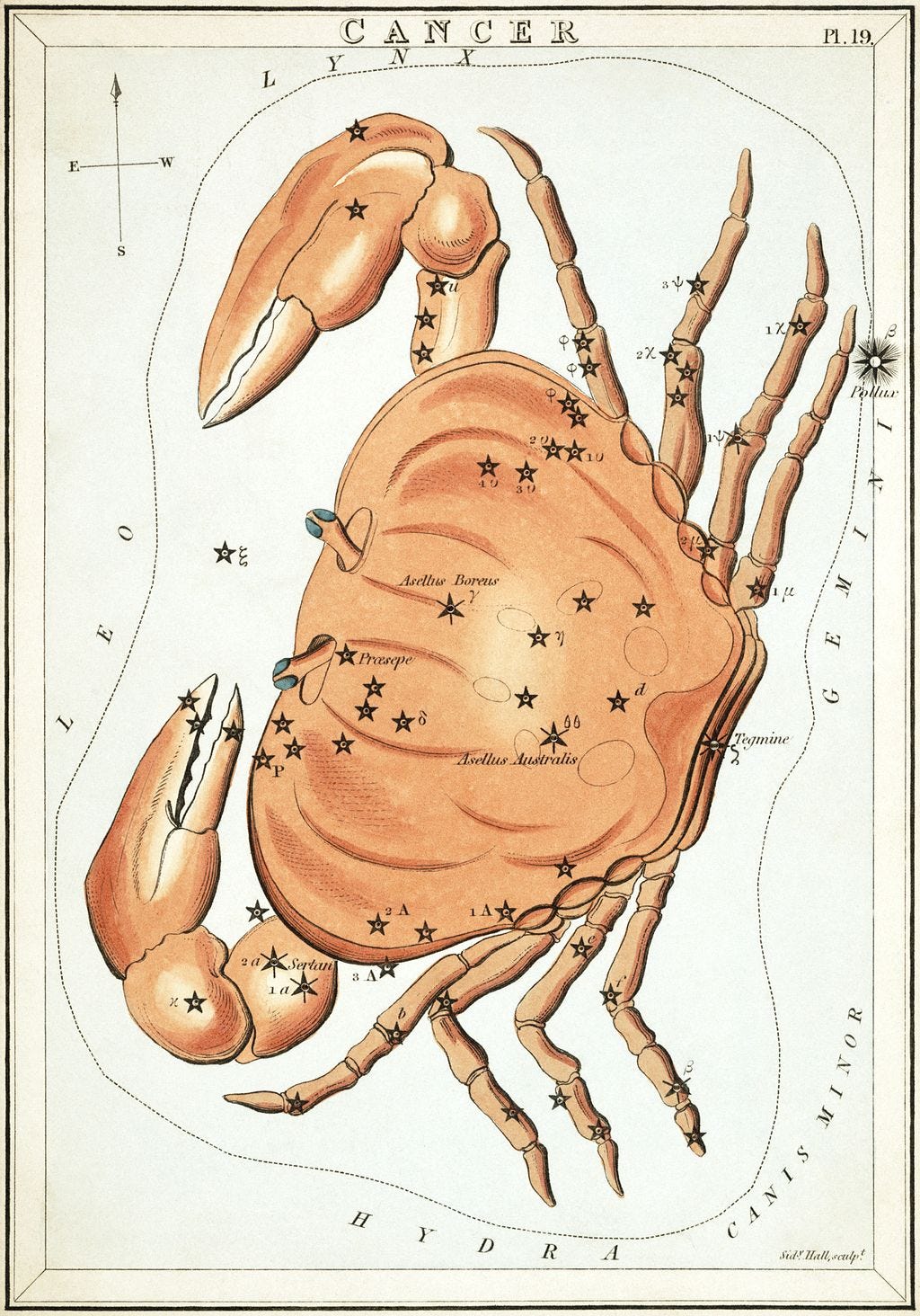 Moon and Stars
It's cancer szn. And you know what that means: It's Meryl szn. The shapeshifting goddess turns 70 on June 22, and this year she's celebrating on the cliffs of California (by which I mean she's currently stealing scenes Sunday nights on Big Little Lies). Streep embodies many of her sign's most prominent qualities: Crabs tend to be artistic, nurturing, emotional, loyal, and demanding. In other words, those born between born between June 21 and July 22 are a conflicted mix of the original ASMR whisper queen Miranda Priestly and frantically fun-loving dynamo Donna. And we will never, ever stop talking about how bad Julie and Julia was, even if you've already heard our whole spiel. That being said, Cancers are ruled by their stomachs, so if you have Mastering the Art of French Cooking, now is the time to crack it open and prepare some cassoulet for your own Monterey Five ride or dies.
Finances
For the millennial seeking cheap entertainment, summer is truly a season of bounty. No matter where you live, it's likely to be the season of outdoor movies, public pools, street fairs, fitness classes and even free music.
The downside, of course, is that summer is also hot and free things are often crowded. Those factors can make staying at home and binging Veronica Mars and Stranger Things very tempting.
One trick to beating both these potential buzzkills is arriving early. For me, my new DC license has brought me a love of public pools. I'm lucky enough to be able to go on Fridays when they're less crowded but I'm also a big believer in going before noon when you're more likely to find tanning millennials than screaming kids.
Shameless promotion: If you are in the District like me, might I recommend my friend Chelsea's newsletter for more advice on cheap and free things to do this summer.
Best Days
June 21: It's summer solstice, bitch! However you celebrate—Dragon Boat Festival, Tirgan, Inti Raymi, or pre-ordering tickets to a shit-your-pants screening of Midsømmar—just be sure to celebrate.
June 29: Prepare a purple meal. Eggplants, plums, pluots, and heirloom tomatoes are all in season.
July 4: I'm ambivalent about 'murica. But National Country Music Day? Ooh boy! Time to take your Lil Nas X EP to some old beach road and eat lobster roll til you can't no more.
July 14: It's Bastille Day. Finally, an excuse for always feeling miserable.
Folklore
Listen, you're almost certainly not going to start growing horns from spending too much time scrolling through Twitter. (In fact, Twitter is the perfect place to find a fiery scientific takedown of that horn study in the first place.) But there is another way for humans to hail Satan on their foreheads: It's called a cornu cutaneum growth, or cutaneous horn. Basically, for reasons still largely unknown, some people will live to see the keratin in their top layer of skin continue growing, forming a hard and often conical tumor. Some can grow a foot long. I won't share any photos here, because this is newsletter is a safe place that should make you feel cloaked in the sparkling grapefruit scent of feminism, but you can Google these bad boys for yourself. While physicians aren't sure why they develop, they seem to be associated with radiation exposure, like the kind you can get from sunburns. Human horns have been documented for millennia, and may have inspired depictions of demons and devils. But really, they're just a reminder to lather up on sunscreen this summer.