Discover more from The Millennial's Almanac
Folksy wisdom for modern life
The Millennial's Almanac
March 21 to April 8
Folksy wisdom for your modern life
Welcome to the Millennial's Almanac!
ICYMI: Before Gutenberg made a Bible, he printed an almanac. The ancient texts were first produced by Babylonian astronomers, but they have guided beleaguered farmers, seasick sailors, and armchair witches for thousands of years since. From the scientifically-validated to the fringe conspiracy, the exceedingly practical to the absolutely absurd, almanacs offer non-judgmental advice on every aspect of living. And who could use a bullshit-free guide to life more than you? Now get scrolling.
Home and Garden
Winter is technically over, but if your office is anything like mine, you probably have spring allergies or caught someone's strep throat or just really feel like shit this week. Now, soup is a very BAD lunch to pack for work because it is messy and you will get your nice or even so-so work clothing messy. But it is a GOOD dinner, especially if you have an instant pot and it requires almost no work.
Here is how to make the easiest soup I can think of:
You need broth. This can be homemade or store bought; frankly, for this kind of soup it doesn't really matter. I'm not vegetarian but if you are you will obviously want to use a vegetable or miso broth. If you just puree tomatoes + coconut milk + some broth + garam masala + ginger/garlic, you don't even need to read on. That is some good soup.

But, if you must continue, now you need some seasoning. Parsley, dill, onions, garlic, fennel, anise seed, turmeric… only pick TWO of these. And if you're using anise, remember to use only 1/100 of what you are going to try to put in.

The rest: If you are vegetarian, maybe… chickpeas? Lentils? My basic soup normally involves just egg noodles OR egg noodles with chicken, so I guess whatever you would normally use instead of chicken! If you are making a creamy soup, you can also use nutritional yeast to make it even healthier and creamier.

Boil everything until it's done. For my soup it's chicken>dill>SHRED CHICKEN>noodles>cream. Depending on how sick and tired I am, I will do whatever I have enough energy to do.
Wow, there you have it! A soup! 
Don't want to do any of this? Shin Ramyun. It's a soup too and, frankly, it's amazing.
Moon and Stars
Peel back the luster of Greek mythology and the story of the golden fleece reveals itself as just another ancient scam szn clickbait article. A guy named Jason really wanted to steal the gilded hair of a winged ram. With the help of his bros (alias: the Argonauts) and Medea, a literal witch whomst he treated like a bad Tinder date, he succeed in nabbing the magical Patagonia sweater he'd so long lusted after. But whatever happened to that mystical sheep? I'm glad you asked. He is now the symbol of Aries, the astrological season that begins today, bringing with it a month of passion, impatience, and the aggressive self-confidence that only comes from having a giant set of horns for head-butting your way through bullshit. Use this energy wisely: Fight for what you believe in, but remember to nurture your own growing golden fleece, whatever it may be.
Best Days
March 21: It's Holi! Celebrate with a colorful cocktail.
March 26: Dry Fruits and Vegetables, Cut Hair to Slow Growth, Mow to Slow Growth, Castrate Farm Animals, Pick Apples and Pears, Wean, Quit Smoking, Potty Train, Perform Demolition, Wash Wooden Floors, Wash Windows, Start Diet to Lose Weight, Advertise to Sell, Buy a Car, Kill Plant Pests. This is your one day to do it all!
April 8: The Taurus Moon rises this night and apparently my throat already knows it. Heed this warning and make sure your gullet is ready! Hot tea before bed every night and tea with lemon every morning.
Cultural Predictions
People Are Talking About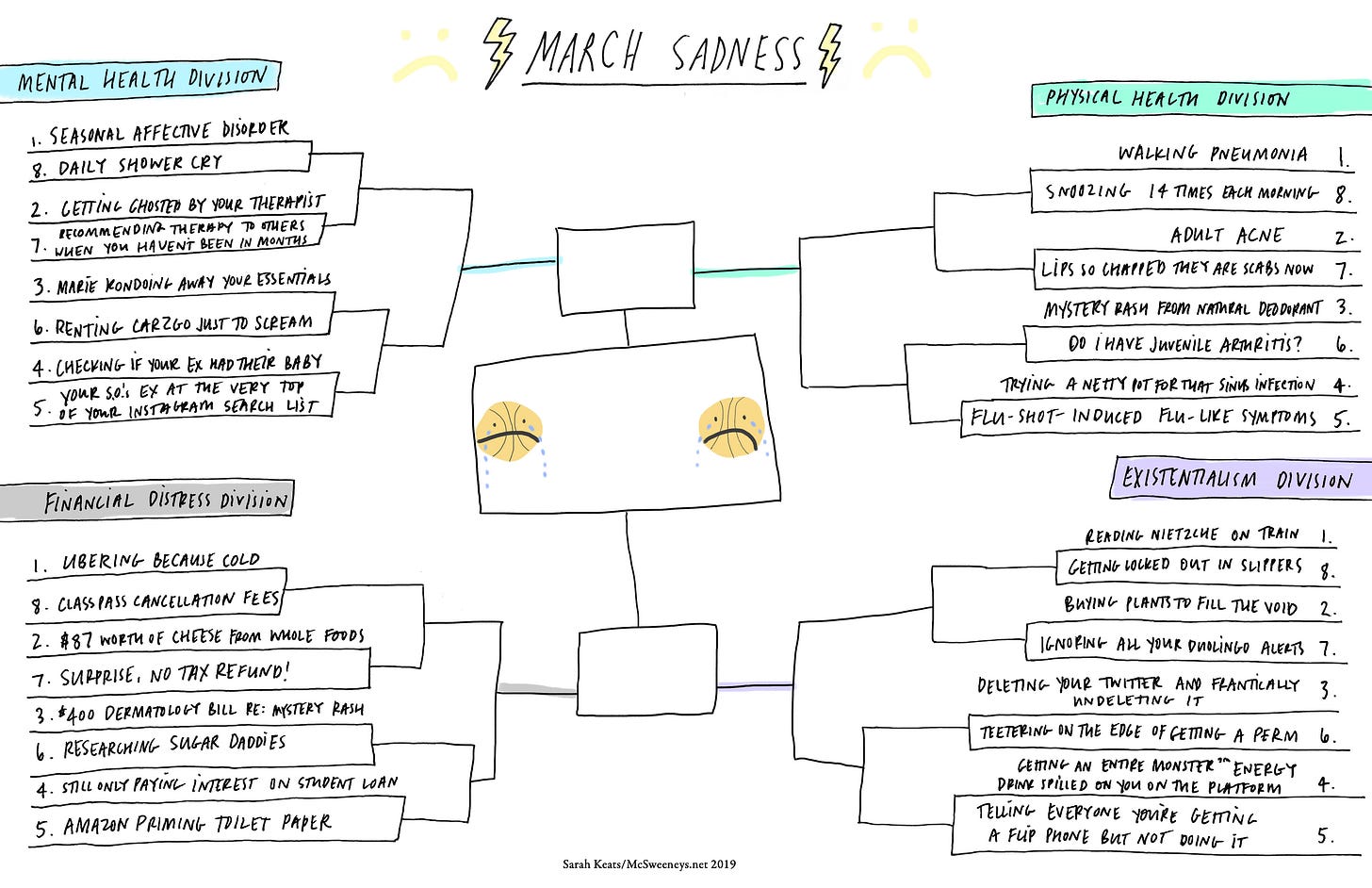 Penny Wise
Treadmills started as a Victorian-era punishment for prisoners. Like a real-life Ricky & Morty episode, wardens would put two dozen of them on a log roller hooked up to a mill, extracting their life-force (and grinding corn!) in the process. Now, perfectly free, totally-not-incarcerated individuals pay real money for the privilege of crying on a Peloton with only a $75 Outdoor Voices tank to wipe their tears. I don't know about you, but it's facts like these—historical episodes of torture (and more contemporary ones, in Catholic school gym class), coupled with the wellness industry's classism/lookism/sexism—that stopped me from finding the joy of exercise until my early 20s, when many of my peers had been living up intramural sports and early-morning jogs since, like, childhood.
The path to personal fitness (emphasis, I'm learning, on personal) is a winding one. It's like being the last millennial to discover Beyonce, and then realizing she has a dozen albums and an hours-long art house music video, and also a Instagram, and, oh, a sister, Solange, who's just as good, maybe better, and just dropped a new album. In other words: I found something I love to do, and now there are a million other things I can try, too.
In the spirit of exploration, my first goal is to learn to run (yes! apparently this is something you can learn!). And I want to do it for free, sans nervous breakdowns, in the mediocre exercise clothes I already own. Here's my plan: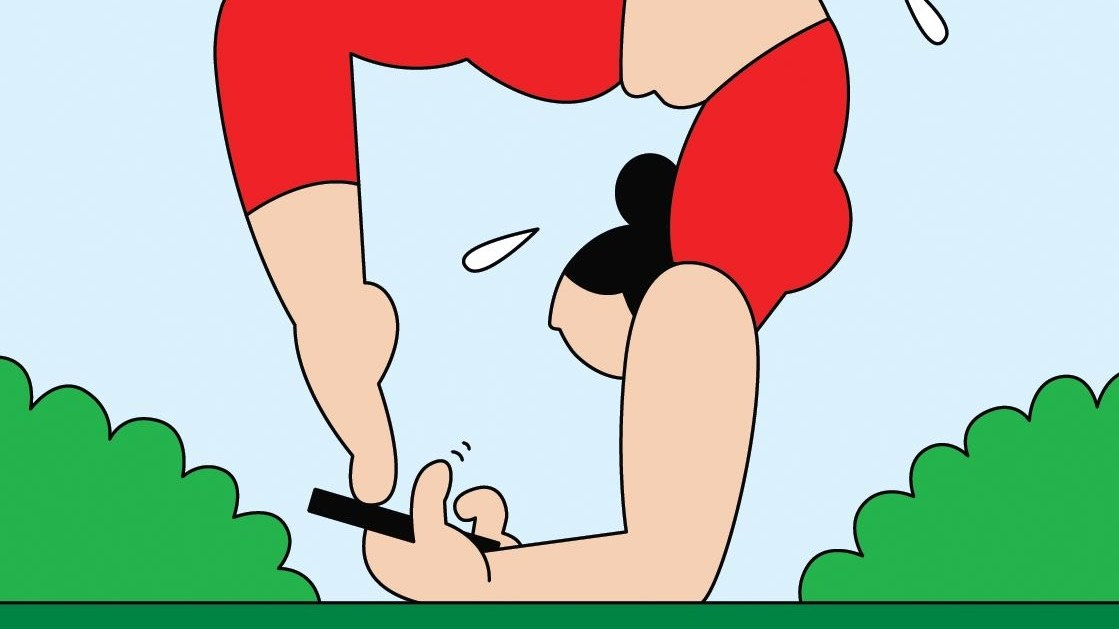 1) I've enlisted a buddy. Fortunately, we both live near the same park!
2) I'm following the Runner's World beginner's program: "Alternate running until you hear your breath, and walking until you catch your breath for a total of 20 minutes."
3) I'll repeat this strategy three times a week for three weeks, the amount of time trainers say it typically takes for the body to start craving a run.
4) Most importantly, I've set a stress-free goal. While every new runner's ratios will almost certainly start off horrible (15 seconds of running for every three minutes of running), the magazine **promises** you'll continuously increase the percentage of time you're actually motoring, until you're running for that full 20 minutes. I'm committed to the three-week-long experiment and, if this whole thing works, I'm excited to keep running. But if it doesn't, and I still find the whole thing unbearable, I won't. Running-as-torture is so 1875.
Folklore
I'm a very superstitious person, if that was not already clear based on the fact that this almanac exists. My desire for it has taken many forms—prayer, spells, crystals, tossing coins into fountains, making wishes on the first day of the month, making wishes at 11:11 (can you do PM too?? I've already assumed that was BAD luck). Maybe I've felt it's my birthright given my Irish heritage. Though, given I broke not one but two glass jars on St. Patrick's Day less than a week after wishing into the Trevi Fountain…maybe I'm not doing it right!
Given our soon-to-be cashless society (bad idea btw), it seemed worth looking into what exactly it is about that cold hard coin, the penny, that is so darn lucky. Why, in other words, are health, wealth, and wisdom tied to a now-insignificant amount of copper-zinc?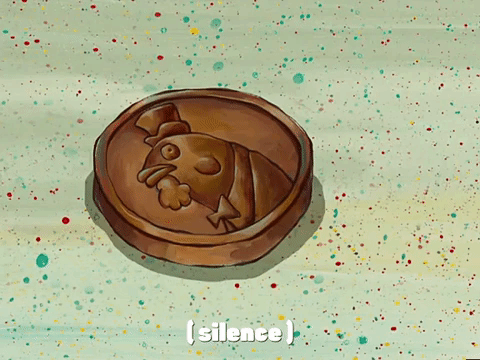 Apparently, it more has to do with the metal itself than the monetary value. Romans believed that metal was a gift from gods to protect them against evil. And while our forefathers might have been more inspired by Protestant thrift than God Himself, the penny has kept its lucky luster in American culture. Allegedly, keeping a jar of them in your kitchen (which I DO) will bring you more money. And picking one head's up, as we all know, is just generic good luck.
Naturally, the European versions of this are more fun. In Ireland and Northern Europe, it's believed that pennies belong to leprechauns or fairies, so throwing a penny back into the forest will bring you good luck. I'm guessing where I live it would just bring me a street rat, but the idea is nice!
Frankly, in my search for good luck I'm not altogether certain that coins will be my next solution. It brings more more anxiety than certainty. What happens to superstition when Bitcoin takes over? Or President Andrew Yang kills the penny for good? If we aren't already all cursed, we certainly will be then.
[Editor's note: EC would like to point out the "luck" of the Irish is BAD. bb don't I know it!!]
Your Millennial Proverb:
Don't shrink from the space the world has given you, welcome yourself to it.