Discover more from The Millennial's Almanac
Folksy wisdom for modern life
Millennial's Almanac: February 1-18
Folksy wisdom for your modern life
Feb. 1-18
Home and Garden
Animals were already society's most steadfast weather forecasters even before Groundhog Day took hold. If you grew up with grandparents monitoring fuzzy caterpillars, you know what we're talking about. Snakes and squirrels were an old-timey substitute for radars—a crackpot version of today's National Weather Service. Today you might be better off relying on your iPhone than an Almanac (except this one, ahem) to track the weather. But monitoring seasonal shifts is totally within your power.
Phenology is the technical term for monitoring biological phenomena that are correlated with climatic conditions. Citizen scientists around the world are tracking the first bud of cherry blossoms in their local cemetery, or the first cardinal sighting out their front window. Some report their findings to the USA National Phenology Network, which shares data with professional climate scientists, but others just do it for kicks. Either way, Rebecca Onion argued in Slate, phenology is a way to "anchor yourself in place and be a witness to the way nature is actually responding to change, instead of dwelling on the disasters that might come."
So how do you get started? Start by shaking off your "plant blindness," and skim some online resources about plants and animals in your state. As spring begins, follow the advice of Mark L. Hineline, author of Ground Truth: A Guide to Tracking Climate Change at Home:
Grab a notebook, go outside, and find a nearby patch of nature. What do you see, hear, feel, and smell? Are there bugs, birds, squirrels, deer, lizards, frogs, or fish, and what are they doing? What plants are in the vicinity, and in what ways are they growing? What shape are the rocks, what texture is the dirt, and what color are the bodies of water? Does the air feel hot or cold, wet or dry, windy or still? Everything you notice, write it all down.
Repeat until you've become one with nature.
Astronomy
As New Year's resolution season comes to an end, February presents us with an opportunity to consider more lasting forms of change. Instead of indulging in capitalist forms of "self-care," consider "self-parenting." Forgo the crushing sense of defeat that accompanies unsustainable diets and experiment with healthy foods you might actually enjoy. Instead of committing to exercise regimens you can't sustain, remember: exercise, when done right, should leave you feeling good. Aquarius, which lasts through Feb. 18, is known as the "progressive" sign. Hippies interpret this one way, Silicon Valley bros another. But perhaps its best definition is "proceeding step by step."
Best Days
February 5: Start another batch of sauerkraut (or ferment vegetable of your choice.)
February 9: Get a jumpstart on your taxes if you haven't started them already.
February 14: Host a party! (For one or for Galentine's Day)
February 18: Host a seance with your favorite president, and hold them accountable for their shitty white male behavior.
Cultural Predictions
People Are Talking About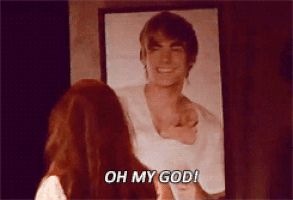 Penny Wise
Paying for things can be a struggle not just financially but mentally. For a year I really wanted to get a gel manicure. But there was something about spending $40 on dead keratin that I just couldn't stomach. (Especially since the only time I've gotten a professional manicure was for my 8th grade formal and it chipped almost immediately.) So I recently bought a kit to do it at home. It's not remotely easy nor would I say the quality is as good. But it gave me something even more unexpected than glittery pink nails: a hobby.
I've become obsessed with watching videos on YouTube, both for product reviews and to learn how to level up my game (I'll be trying making my own fake nails next!) Watching the videos of women with thick Russian accents carefully painting goo is not as beneficial as, say, reading the book on H.H. Holmes that has been sitting on my nightstand for two months though it is slightly less guilt-inducing than reading BuzzFeed listicles before bed. When I look at my amateurishly scuffed nail beds, I still sometimes wonder what it would be like to walk around the corner and get some shiny pastel nails and a free glass of champagne. But unlike my many attempts to make homemade fried rice, it's actually satiated my craving.
In our luxury-self care driven economy, it can be easy to think that buying things is the way to sanity—and I've done my fair share. But I think everyone (everyone!) can learn to do something at home that will save them money. I'm not saying you have to go start building furniture or even learn how to knit. But maybe you can get that shoe fixed or get your own iced coffee brewing in the morning.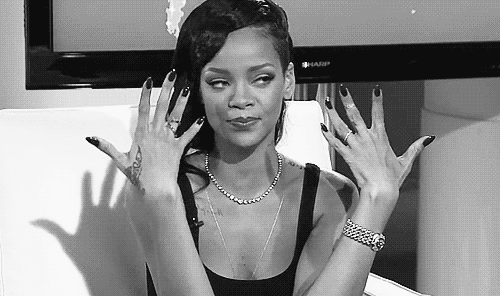 Folklore
If you live anywhere except for maybe Florida, you've experienced some BRUTAL winter weather lately. If you could in fact throw boiling water into the air to make snow, then I and convict Elsa commend you. If not, then here are some folksy ways to bring even more weather your way:
Flushing ice cubes down the toilet (h/t to Jess B. for this)

Cutting paper snowflakes

Sleeping with a spoon under your pillow (your author's personal go-to)

Putting your pajamas on backward and inside out (I might unintentionally do this anyway, sorry Chicagoans)
Millennial Proverbs*
Ben Franklin was a racist, so here are some better proverbs for you
An Amazon package doesn't return itself

Ratios multiple folly

Wink at small owns; remember thou hast great ones.

Avocado toast makes a full man, Goop makes a profound man, student loans make a clear man.

Work as if you were to live 100 years. Pray as if you were to be laid off tomorrow.

Better is a little with content than much with no content.

iPhones and Reputation, are easily crack'd, and never well mended.
*Stitch pillow not provided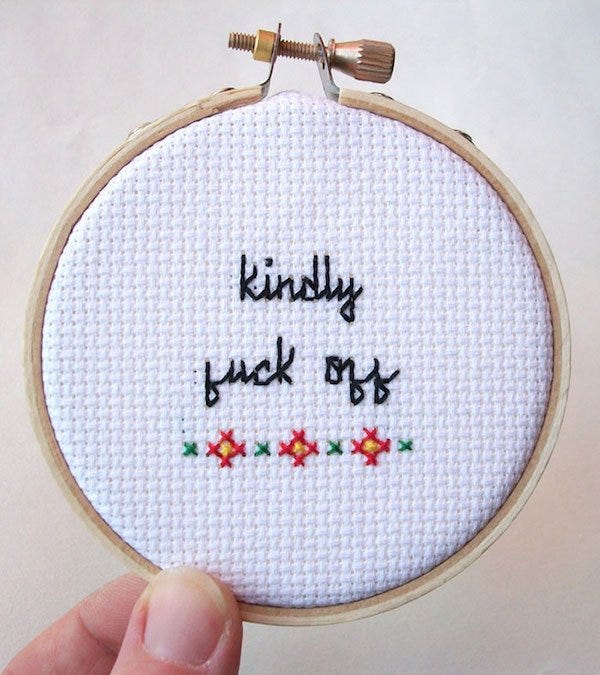 Want good advice? Email themillennialalmanac@gmail.com