Discover more from The Millennial's Almanac
Folksy wisdom for modern life
Millennial's Almanac
Folksy wisdom for your quarter-life crisis
January 20-31

ICYMI: Before Gutenberg made a Bible, he printed an almanac. The ancient texts were first produced by Babylonian astronomers, but they have guided beleaguered farmers, seasick sailors, and armchair witches for thousands of years since. From the scientifically-validated to the fringe conspiracy, the exceedingly practical to the absolutely absurd, almanacs offer non-judgmental advice on every aspect of living. And who could use a bullshit-free guide to life more than you? Now get scrolling.
Home and Garden
The first natural cure I remember being prominent in my life was sweet oil. Like many young children, I was riddled with painful earaches growing up. Aside from sobbing into my mom, the only thing that seemed to help was warmed sweet oil on a cotton pad.
I don't have as many earaches these days, but I'm still a sucker for folk cures. (Spoiler: they are not a replacement for adequate health care! The Millennial's Almanac is VERY pro modern medicine and vaccines). For the less serious affliction, however, folk cures are still the way to go (even if they may or may not work). Here are some I've discovered as an adult:
Milk Thistle: yes, you could try fancy Japanese hangover cures, or you could pop a capsule of milk thistle sourced from your local Trader Joe's before going out for the night (and another before crashing in bed). It doesn't replace drinking water/not binge drinking/self-care, but it will help some people feel better and allegedly is good for your liver.

Turmeric: I have no idea why turmeric is good, but it's been used as an anti-inflammatory in some cultures for centuries and now that people put it in lattes, it's really popular in the U.S.! I like mixing mine with lemon and ginger for a refreshing lemonade.

Marshmallow Root: If you're a woman, there's a decent chance you'll deal with bladder inflammation at some point in your life. It might even feel like you just have a chronic UTI but that is A LIE (check with your doctor first). Interstitial cystitis, as it's known, can be very difficult to cure and like with most chronic pain, what works for people varies. If Marshmallow Root (you can find a tea version at most grocery stores) doesn't help, other suggestions include: Benadryl, epsom salt baths, and a complete elimination diet of acid and caffeine (um no thanks).
Astronomy

We've entered into the age of Aquarius; I don't know about you, but I can just barely make out Steve Carell singing from here. The "water bearer," as the sign is known, is represented by two horizontal lightning bolts, or a naked Dobby the Elf with a pitcher, according to some deep Wikipedia research. Now is a good time to speak truth to power—your landlord, your boss, the ghost in your living room—and prepare for the unexpected, because, yes, something unexpected is coming between now and the end of the month and no, it is not a special issue of this newsletter, we are very busy and also lazy. If that weren't enough, there will be a blood moon on Jan. 21, which either signifies the end of days or a regularly-programmed lunar eclipse. Or maybe both!
Best Days
January 20: Watch "Moonstruck" on the eve of the full moon (it's "free" on Amazon Prime, so just the cost of your soul!)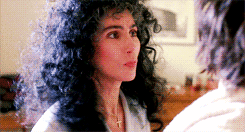 January 26: Time for an at-home spa treatment (actually "fixing" your skin is for the rich, but a mud mask still *feels* good)
Penny Wise
I was first introduced to Marie Kondo years ago when I worked at a horrible Platform for Influencers. It's been amazing to see her ideas resurface in such full force and popularity with her Netflix show, which I totally believe is delightful but still have not watched!
But what is maybe more beneficial than cleansing your life of joyless items — and less exhausting than having to donate or sell them all — is preventing impulse buying to begin WITH. For instance, if you buy too much from Evil Corporations online, try removing your credit card information from accounts so it takes more effort to actually make the purchases. Instead of buying new clothing, try swapping with friends. Only allow yourself to carry cash! If all else fails, just give your extra things to me because I come from a family of hoarders and appreciate any junk you want to give up.
Cultural Predictions
Ben Kingsley announces he's playing Jeff Bezos in a forthcoming documentary

By the end of 2019, the only living coral belongs to Pantone

Microplastic necklaces (Gucci x Great Pacific Garbage Patch)

Liberal fan fiction continues despite our prayers
People Are Talking About
Rihanna is putting out a new album this year. Stay blessed.

Remember when they did surgery on a grape?

Jeff Bezos sexts (if we have to think about it, so do you)

Trial by Kondo
Folklore
There are many things I dislike about the east coast. The "mountains" are tiny jokes, most people have never eaten Red Vines and instead settle for Twizzlers, and, worst of all, it's hard to get your hands on root beer. Maine Root Beverages, the organic fair trade soda company, has made inroads in some higher-priced restaurants, but I could go weeks without finding my favorite drink anywhere but Shake Shack. And that's a shame: root beer is a truly classic American drink. A few years ago, my friend Ellen Airhart was doing some research on the topic. Turns out, Native Americans have been crafting sassafras-based drinks long before European colonists ever arrived. The first commercial root beer debuted at the Philadelphia Centennial Exposition in 1876. Barq's (my favorite mainstream brand) emerged in 1898, and the hellish A&W was branded in 1919. (All three were "made" by white men.) Making your own root beer is nigh impossible, so I'm settling for a homemade candle, with these instructions:
Buy soy wax, a wick, a mason jar, and the dye color of your choice.

Melt the wax. Mix in black licorice scent oil, cinnamon, vanilla, and dye.

Place the wick in the container. Hold it upright while pouring the hot wax in.

Hold the wick in place with two popsicle sticks on either side as the wax dries.
Call and response
Q: How to stand up for yourself in a negotiation?
A: Start by gathering intel. Often, people who have been in similar situations want to help. This will ensure that when you get to the table, you'll know what's appropriate to ask—and when someone is lowballing you. Next, work through the scenarios. Would you be willing to take less money in exchange for some other freedom or opportunity? Identifying what you really want and need is essential. If you're not there to improve your life, why bother negotiating? Well, I'm glad you asked… You're doing this for the people who come after you! If, like me, you have trouble advocating for yourself, center your thoughts on the cold, hard fact that getting what's yours means other people are more likely to get what's theirs. If all else fails, watch this Ellen Pompeo/Gabrielle Union/Gina Rodriguez interview and cry a little.